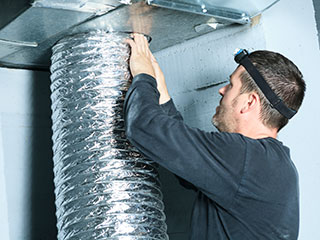 Most property owners see air duct cleaning as just another chore to be taken care of. What they don't realize is that if you put off cleaning your ventilation system, you could be losing money. Not only does an uncleaned air shaft run the risk of spreading contamination around your building, but it can also be a money soak. The quality of indoor air in your Chula Vista residence or business establishments can greatly benefit from cleaning the air ducts. But besides improving the quality of air, you also reduce energy spending. Blockages in air ducts restrict airflow. That leads to longer time spent heating or cooling different rooms. And that costs money.
Blocked Air Vents in Your Chula Vista Property
You need air to circulate freely around your house, office, or apartment. Whether you're heating or cooling the building, or you're just moving air to ensure that mold isn't given a welcoming environment to live in, air needs to move easily from room to room. This can be stopped quite easily though if anything is allowed to block the ducts themselves. Anything from vermin infestations to loose insulation can be enough to restrict airflow, and the ventilation in your building will stop working effectively. Whether it's a recent home remodel that increased dust in the air ducts or just long term neglect, a blockage creates a variety of issues.
What Impact Do Blocked Air Ducts Have?
The most obvious problem that you'll encounter with a blockage in the air ducts is a spike in climate control costs. Because you're relying on an HVAC system to push warm or cool air throughout the property, anything that prevents this from working adequately will compromise its effectiveness. Air takes longer to circulate, meaning it has much less effect on the temperature of each room. Consequently, the HVAC system of your Chula Vista home (or business property) will have to work a lot harder for the same impact, costing you a lot more in running costs. Therefore, the blockage in the air ducts results in more money spent on energy.
Costs of Clogged Air Vents
All climate control systems are inefficient and are often one of the most expensive appliances in any property to run. Maximizing the system's effectiveness is important, and it relies on clean air circulation to operate properly. The problem is, it's often impossible to tell whether your building's vents need cleaning. The effects of clogging are generally gradual and hard to detect, so scheduling regular service appointments is important. The more clogged the air duct vents become, the more restricted the airflow. And that leads to an increase in energy spending, as we mentioned before. More blockage, more money.
Air Duct Cleaning Reduces Energy Spending
Opting for ductwork cleaning helps you not only breathe more freely but also cut down on monthly energy bills. The better the airflow inside your business or home, the less time it'll take your HVAC system to maintain the chosen indoor temperature. Not to mention, blocked air ducts reduce the quality of the air you're breathing. Our team at Air Duct Cleaning Chula Vista can help unclog blocked ductworks and dryer vents. You can improve indoor air quality and save yourself money, in the long run, this way. Get professional cleaning for air ducts and HVAC units at the best prices near you!