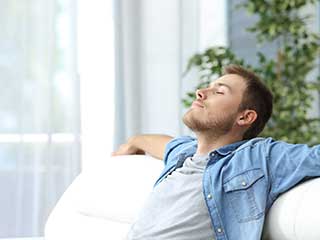 As a parent, spouse or the head of your family, you go out of your way to make sure everybody gets what they need and what they want. You try your hardest, day in day out, to provide them with a safe, happy life. Yet there is probably one thing you haven't thought of, and that, as basic as it may sound, is the air they breathe.
Why Worry About Air Quality?
Some of the most dangerous things in life creep up on you unnoticed, until it's too late, that is. We're not saying that poor indoor air quality is one of the most dangerous things in life, but it's certainly not a good thing, and it certainly creeps up on you. You might feel like the room or house feel a little stale or stifling, or you might notice nothing at all. Either way, the air you breathe could have pollutants in it that can accumulate and cause damage. Such pollutants can be materials used for construction (such as lead or asbestos) or even day-to-day cleaning materials and detergents. Other pollutants include mold, cigarette smoke, and the like.
Knowledge is Power
If you really want to know what kind of living conditions you provide your family with, the picture will become complete with Air Duct Cleaning Chula Vista's air quality tests. Our team of experts will arrive at your house with top-notch equipment, substantial experience and a can-do attitude and will go from room to room, from space to space, until the entire premises has been thoroughly checked.
Once they're done they'll issue a comprehensive and detailed report that will plainly let you know if any problems were found, where they were found and what has to be done to deal with them. Only then you will know that you're doing your absolute very best to take care of your loved ones.
Contact Us
All you have to do is book an appointment online or simply give us a call. Let us worry about the rest.